2019 Hall of Fame Inductees
Todd Brammer, Athlete, (Class of 1979)
Todd is being inducted into the Hall of Fame as an athlete. He played other sports but his talent lay on the football field. One sports writer has said, "If I were starting a football team, Southern's Todd Brammer would be on of the first players I'd put on the squad." Todd's coaches spoke well of Todd. Coach Bob Spaite called Todd a "natural talent". Larry Sargent called Todd a "well rounded athlete and crucial link to a well balanced line." Coach Bill Bucey called Todd the "kind of kid you want to build a team around". During his high school years, Todd was award Co-Offensive Player of the Year, Tri County 1st Team Offense and Columbiana County 1st Team Offense.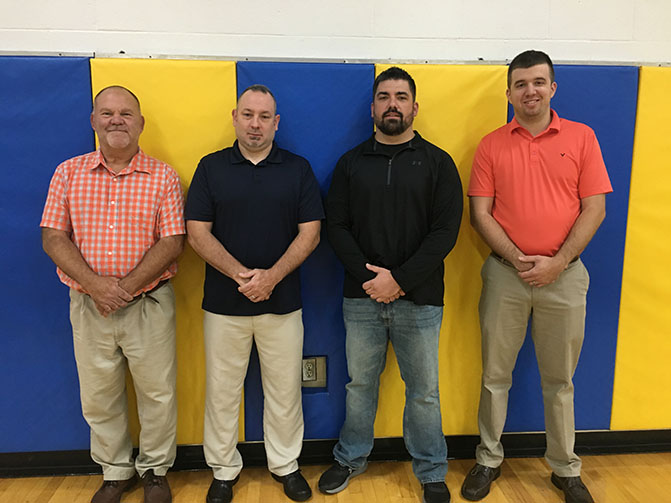 Todd Brammer, James "Jim" Hickman, Tyler Clemens, and Cody Warnock
James Hickman, Athlete, (Class of 1991)
Jim is being inducted into the Hall of Fame as an athlete. Jim was a four letterman in football. Jim was recognized for holding the single season tackle record but has since been broken. But, Jim still holds the record for career tackles at 405. Jim received numerous awards. During his sophomore year, Jim was 2nd Team Columbiana County. During Jim's junior and senior year, he was 1st Team All County. Jim was also 1st Team Tri County his junior and senior years. He was 1st Team All Northeast District and Division 5 All Ohio Special Mention.
Tyler Clemens, Athlete, (Class of 2002)
Tyler is being inducted into the Hall of Fame as an athlete. Tyler was a three year letter winner in football. Tyler was part of the Morning Journal and East Liverpool Review All Area Football Teams. Tyler was also named to 1st Team Tri County League, Columbiana County, All Northeast Inland District. Tyler was nominated by his coach as a USNFA National Scholar Athlete. Tyler was selected in the 2001 season as the Southern Local Offensive Player of the Year.
Cody Warnock, Athlete (Class of 2007)
Cody is being inducted into the Hall of Fame as an athlete. Cody played both golf and basketball. Golf is a part of Southern's athletic choices due to Cody and his parents efforts. They went to the school board to plead with them to add golf to the lineup. The Board agreed to recognize the sport, but not support it. Golf was not supported until after Cody graduated. Cody received support from his family and coaches and excelled at the game. Cody holds the record for the lowest individual score in a match (33) and the lowest team score (162). Cody was named to 2nd Team his freshman year and 1st Team TCL and ITCL and All County his sophomore, junior and senior years. In basketball, Cody was a forward and an excellent 3 point shooter. The team won sectional his senior year. Cody received the Coaches Award.
Information /Records accurate at the time of induction.