Hall of Fame Inductees
Harold Eugene "Gene" Jarvis, Contributor (Posthumously)
Harold Eugene "Gene" Jarvis was an avid supporter of Southern Local athletics. Gene was elected the first president of the Athletic Boosters. Gene also became the first play-by-play announcer in 1962. Gene also became the "Voice of the Mighty Indians" until 1980. Finally, under Gene's direction, the boosters built the press tower for the football field in Salineville.
Todd Polen, Athlete (Class of 1982)
Todd Polen received four varsity letters in track and two in basketball. As a junior, Todd helped lead the basketball team to the best record ever at Southern, 14-8. Honors received for his basketball prowess include: MVP (1980-81, 1981-82); defensive player of year (1980-81, 1981-82) and TCL 1st Team (1980-81, 1981-82). In track, Todd qualified for the regional in the pole vault three years in a row.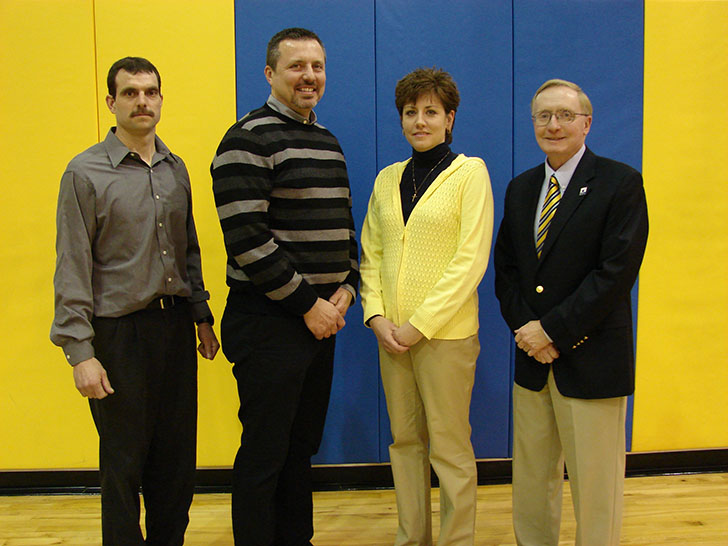 Taj Jarvis representing his uncle Gene Jarvis (honored posthumously), Todd Polen, Staci Weston Russell, Jeff Weekley
Staci Weston Russell, Athlete (Class of 1990)
Staci Weston Russell was an athlete who earned four varsity letters in basketball. In 1990, Staci led the girls varsity to the last TCL Championship won at Southern Local. Staci received 1st Team All Columbiana County (1989-90), 1st Team Tri-County (1989-90), Columbiana County Player of the Year (1990), and Offensive Player of the Year Leading Scorer and Rebounder (1989-90).
Jeff Weekley, Contributor
Jeff Weekley began as a special education teacher in 1971. While working at Southern Local, he went from teacher to assistant high school principal, to elementary principal and finally too superintendent. Jeff was the assistant football coach (1973-1975), junior high basketball coach (1983-85), assistant girls basketball varsity coach (1985-91), middle school athletic director (1986-90), high school boys head track coach (1987-90), and high school head football coach (1990).
Information/Records accurate at the time of Induction.